H.264 ENCODER FPGA Core - High Speed Micro Footprint
Our FPGA core is highly optimized and 80% SMALLER AND FASTER THAN THE COMPETITION WITH 〈 1ms LATENCY @ 1080p30!
The A2e H.264 Encoder is capable of being synthesized in many FPGAs and supports H.264 variable and fixed bit-rate encoding of video streams. Encodes video data at 1.5 clocks/pixel. Typical clock rate in an Xilinx SPARTAN 6 is 95Mhz. Typical clock rate in a Xilinx Zynq 7020 is 95MHz. Multiple cores can be used for processing larger size or higher frame rate images. Uses FPGA specific DDR 3 controller and microprocessor soft core. In addition, the standard core can be customized, retaining ITAR compliance, to meet unique functional needs.
H.264 Encoder Features
1.5 clocks/pixel processing rate
Fully compatible with the ITU-T H.264 specification
Available with bus widths from 8-12 to handle deeper pixel depths (Pre-compiled for Binary license.)
Supports resolutions up to 4096 x 4096 (can be expanded with additional cores)
Supports simultaneous encoding of multiple streams of arbitrary sizes and compression ratios
Generates I and P frames
Variable Bit Rate (VBR) and Constant Bit Rate (CBR)
Search range: 80 X 48 pixels, Full, 1/2, 1/4 pixel resolution
Entropy Encoding: CAVLC
Support for intra 4 x 4 DC prediction
Support for Single or Multiple slices via firmware control
Supports YUV 4:2:0 video input
Fully synchronous design
Available as FPGA specific netlist
Custom versions available
Recent Enhanced Features
New improved AXI wrapper to simplify integration of core
AXI stream for video input and compressed output
Latency reduced from 1 frame to less than 1ms for a 1080p30 video stream
LOWEST LATENCY IN THE INDUSTRY!
Others quote low latency but limit it to I frame only. Our core is low latency and supports I and P frames!
Significant reduction in Block RAM requirements for external raster to macroblock reordering
---
Deliverables
FPGA specific netlist
Bit accurate C model
Complete HDLtestbench
Test images
Complete data sheet
Licensing Options
Evaluation
Development
Project
Unlimited
---
Xilinx
Spartan 6
Virtrex 6 & 7
Kintex
Artix
Zynq
Virtex 4QV & 5QV (Rad Hard)
---
Why use an A2e H.264 Encoder FPGA Core vs DaVinci/iMx6?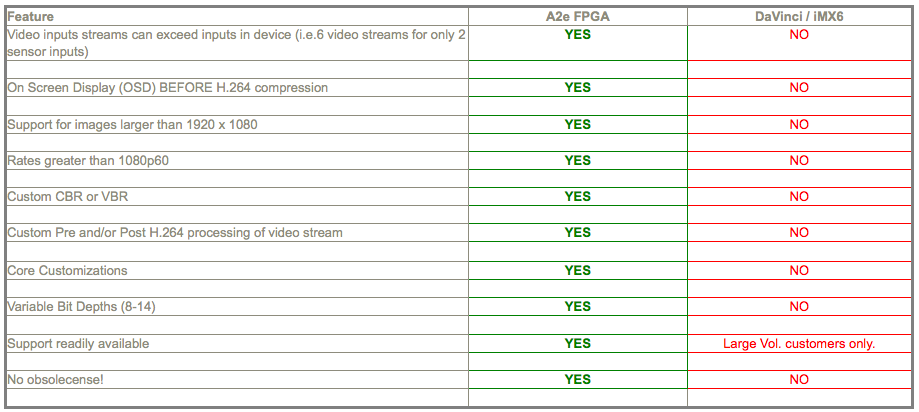 Download the Data Sheet!
Click here to request a data sheet: Request Data Sheet. The Data Sheet contains more details on functionality and deliverables. Or, you can contact the sales person in your area to learn more. (sales@A2eTechnologies.com, or numbers at the bottom of this page)
Pricing
Please contact us at sales@A2eTechnologies.com for pricing information and any other questions
---